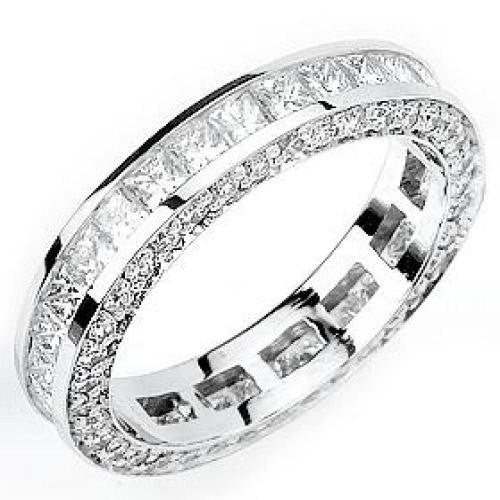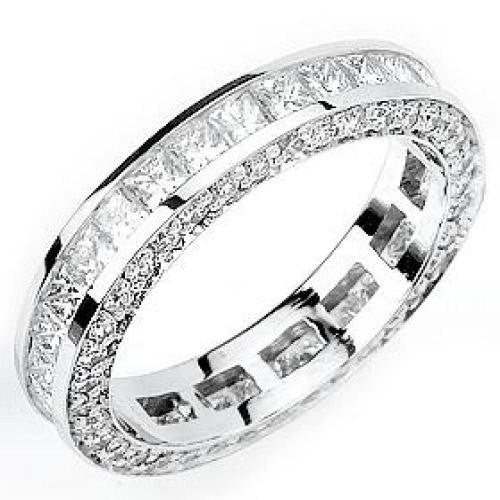 Three rows Princess and Round Diamond Eternity Ring Band
Material: 14K White Solid Gold and Diamond ring
Diamond Carat: 2.5ct.
Diamond Clarity: VSI1-SI2
Diamond Color: G-H
Stone Shape: Princess & Round
Width: 6mm
Sizes: 3 - 11 available
SKU: JD-HV-C3
This ring is 100% customizable. Please inquire for any changes you would like to make with the request a custom order link under the image. You can request different metals, metal combinations, widths or sizes not shown. You may also contact us for any other design ideas you may have.
We also include free of charge engraving inside the band. Please contact us for more details.
The concept of the diamond eternity ring was created in the 1960s by diamond merchant De Beers. American investigative journalist Edward Jay Epstein stated that at the time the company had a secret agreement with the Soviet Union which, in return for the creation of a "single channel" controlling the world's supply of diamonds, 'required' the purchase of 90-95% of the uncut gem diamonds produced by Russia. The prevailing fashion at the time, particularly for engagement rings, was for them to be set with a single, large diamond. The Soviet gems, however, were small, often less than 0.25 Carats. To avoid stockpiling, De Beers embarked on a campaign of promotion of jewelry containing a number of small diamonds culminating in the eternity ring, which was aimed at older, married women. One campaign slogan, aimed at husbands, was "She married you for richer or poorer. Let her know how it's going." The idea proved popular with the public, and sales continue to be significant.