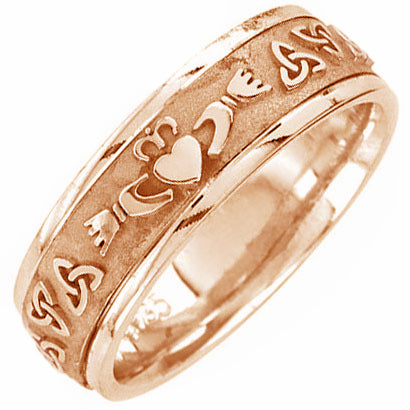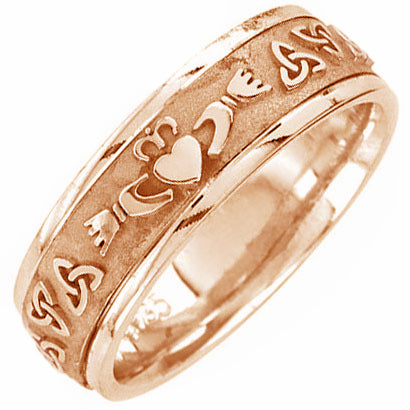 14K or 18K Rose Gold Celtic Ring
Claddagh comes from the Irish phrase, "An Cladch" which means "flat stony shore." It was the name of the village on the coast of Ireland where the claddagh design originated. The 'gh' ending is added for phonetic English speakers to create the guttural, phlegmy sound that doesn't have a character in our language.
The Claddagh ring belongs to a group of European finger rings called "fede rings". The name "fede" derives from the Italian phrase mani in fede ("hands [joined] in faith" or "hands [joined] in loyalty"). These rings date from Roman times, when the gesture of clasped hands was a symbol of pledging vows, and they were used as engagement/wedding rings in medieval and Renaissance Europe.
Fede rings are cast in the form of two clasped hands, symbolising faith, trust, or "plighted troth". The Claddagh ring is a variation on the fede ring, while the hands, heart, and crown motif was used in England in the early 18th century.
Towards the end of the 20th century there was an explosion of interest in the Claddagh Ring, both as jewellery and as an icon of Irishness that now adorns many other objects from pub signs to grave stones. In more recent years it has been embellished with interlace designs and combined with other Celtic and Irish symbols, but this is a very recent phenomenon that corresponds with the worldwide expansion in popularity of the Claddagh ring as an emblem of Irish identity.
14k Rose Gold Celtic Claddagh Wedding Band (7 mm). Embellished with celtic trinity knots and claddagh designs. Weight, depending on size, is approximately 9-13 grams. Perfect for both men and women.
Material: 14K or 18K Solid Gold
Width: 7mm
Sizes: 3 - 14 available
SKU: JD-W5729
This ring is 100% customizable. Please inquire for any changes you would like to make with the request a custom order link under the image. You can request different metals, metal combinations, widths or sizes not shown. You may also contact us for any other design ideas you may have.
We also include free of charge engraving inside the band. Please contact us for more details.
NOTE: Color may not appear the same in physical appearance.
Made in USA